All Avant-Gardes Fail
Submitted by gbetts on June 4, 2009 - 3:41pm
Jamie Reid has a great lead-in quote on the front door of an amazing new website on Vancouver Art in the Sixties. The quote (or does one call it an epigraph, which, at one time was limited to inscription?) reads:
"I didn't have a way of working the language of politics into the language of poetry."
Jamie Reid was one of the founders of the Vancouver newsletter TISH (an anagram of shit or hits or this -- all of which are or were Canadian magazines), which helped coagulate the Vancouver avant-garde scene. The website provides a funky sampling of the scene from the period, including notebook visual poems by Judith Copithorne amidst a general over-abundance of information and images. Definitely worth spending some time on the site.
Carole Itter's "Alphabet Series"
His quote catches my attention because of its rare recognition of both the desire amongst avant-garde artists to establish a point of intersection between art and politics, as well as the realization of the difficulty of striking a satisfactory balance.
The Marxist critic Habermas once wrote that art "does not take on tasks in the economic and political system but satisfies residual needs which cannot be met in bourgeois society." Avant-garde artists of all stripes, however, are never satisfied with their existing society. They work in advance of a future society, or at least work with the faith that a less alienated social contract is possible. Supplementing a failed system, then -- and therefore making it more sustainable --, is anethema to the spirit of avant-gardism.
All avant-gardes to date have failed. The evidence for this is the fact that none of the utopian, post-revolutionary dreams came to pass. But whereas most of the would-be prophets filled endless pages with the details of their prognostications (or justifications of the same), Reid's quote shows an awareness of the mitigating factors acting against revolutionary change in the late-capitalist moment.
As the critic Peter Burger suggests, perhaps the biggest impact of the avant-garde was not in leading society forward, but in providing audiences with a vantage of art in bourgeois society that was, in fact, a few steps backward and outside of the system. Revelationary, not revolutionary. After all, you can't see the problems of a system until you can see that there is a system in the first place.
It's something concrete poets, who were in abundance in Vancouver during the 1960s, frequently attempted to do to the system of language shaped by the alphabet.
Here's another piece by Carole Itter from her "Diminishing Alphabet" series: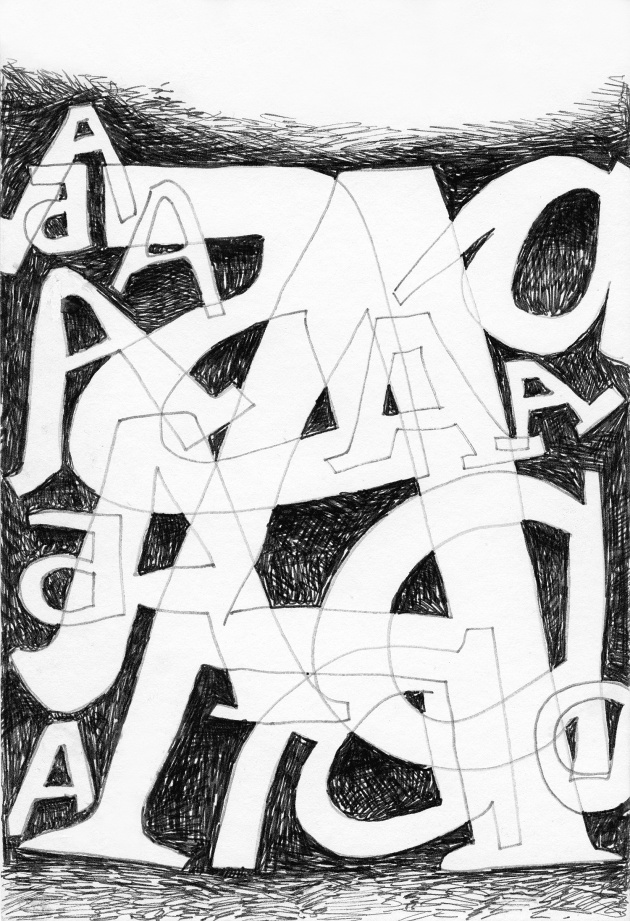 Related item from our archives